ROSKILDE - Some Images
This morning I took a stab at trying to get some images off my camera (now my equipment bag is here and I have the cables) and converted through the computer at my billet and up on the blog here.
VIKING SHIP MUSEUM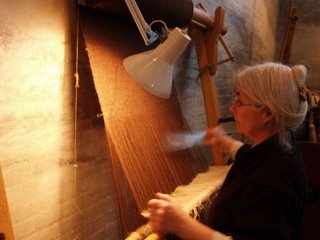 This is the woman I mentioned who is working on the sail weaving project. She is here packing a line of weft with her sword beatter. Got some interesting advice on the correct way to make one of these. She also had a number of samples of cloth using various threads that they had made up as test samples. (The thread weights are in my head...)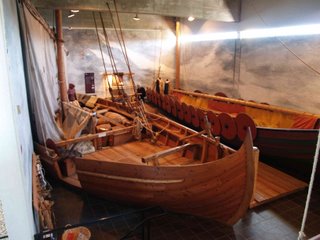 This is an overview of the activity room. The Knorr hull is to the left, the longship to the right, with the weaving station to the rear. The hull replicas are full scale.
ROSKILDE MUSEUM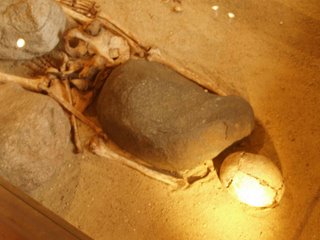 This is the woman's grave described in the last post. Clearly 'killed' as we had learned about from Neil Price. Very interesting. (See what happens to women that get too uppity...)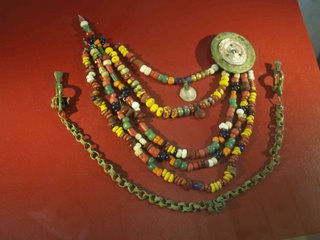 A series of glass bead strands. The text stated 'from a number of graves', but that description applied to the entire case, and there were also a number of smaller clusters of beads. (And yes Neil [Peterson, of DARC- ed.], the other groupings were closer to
15 beads
each.) Not sure if this grouping had been seen in other catalogues.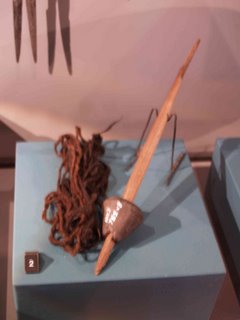 This is the drop spindle with wool yarn. Sorry that the image is not the sharpest. The image was taken hand held at about 1-15 second exposure.
Labels: artefacts, travelogues