Bead Making & Temperature Measurements
10 Sep, 2011
The goal of this day was to get some temperature measurements for different designs of furnaces for a paper we are working on.
Before we begin the discussion it is worth discussing experimental variables. This experimental series is still near the start, which means we have a number of variables still unanswered. We are mostly using matched COE glass for the beads to eliminate one source of breakage. Some beads, however, are being built of mosaic tesserae to understand the working properties of tesserae. Although in some experiments we work with a bellows to supply air, for this day we used hair dryers to provide a matched amount of air, even if it turns out they don't provide identical amounts of air.
As the series progresses we will be working to solve those (and many other) variables.
Four different furnaces were available, but due to available staff only 3 were running on this day. The terms left and right are used as you would view the furnace when facing the airway.
| Furnace Name | Archaeology | Description | Notes |
| --- | --- | --- | --- |
| Goderich | Ribe Oval | Dual chimney oval furnace, cobb construction. Internal construction includes gentle slopes from walls to floor, and a large air diverter opposite the air port. There is no opening cut for charging - charcoal is added through the chimneys. Working ports are cut into each end. Right port uses cuts angled up into the furnace. Left port cuts angle down into the furnace. Right port produces more heat onto the bead maker. | Good functional furnace with 10 hours of burn time. Not used on this day. |
| Karen | Ribe Oval | Dual chimney oval base cobb furnace with a much thicker wall design (5 cm) and is longer in length versus width than normal. It is also fairly tall. The internal air diverter is moderately sized. The annealing pot is long and narrow but not very deep and sits between the chimneys. Working ports were cut in each end with cuts sloping up into the furnace. A charcoal loading port was cut into the back wall opposite the air inlet and above the diverter. | This furnace seems to spark less, perhaps due to the larger internal volume. Total burn time 5 hours. |
| Neil | Ribe Circular design | A "teapot" design. Single chimney round base cobb furnace, with annealing pot attached to one side. A single working port cut into the body. Charcoal is loaded through the working port or chimney. Walls are standard thickness (3cm) and have a very pronounced curve joining walls and floor in a bowl shape to aid in charcoal concentration. The working port is cut high on the wall. | |
| Sarah | Ribe Oval | A smaller version of the standard shape built with a single chimney. This had originally been intended to work as a single working port but the plan was changed. A port was cut into each end, and a diverter added to the inside. The air port was cut in the usual location. | |
| Wendi | Ribe Oval | Standard size and shape, high and wide filling 1'x2' kiln plate. 2 large chimneys, 2 working ports, substantial diverter, tuyere mid-way up wall coob furnace | This furnace was burned for two weekends but did not survive transport between locations. |
Several videos were made to allow us to plot temperature over time. These are the results.
Operating temperatures
All temperatures are in celcius.
A number of temperature measurements were taken at various points in the burn cycles. These are summarized in the following table:
Temperatures - * = sweet spot, + = end of cycle
local/furnace
Goderich-#1
Karen - #2
Neil - #3
Sarah - #4
chimney
577.6
1005
650
758
1070*
815
652
700
971
682.0*
452
451
crucible
390
260
307
451
222
220
port at door
1000
962
854.3
874
860
1200 (film)
860
900
Airspeed (m/s)
7.33
18.06
4.39
13.53
Airflow (Lpm)
0.02
0.05
0.01
0.04
Time to Heat
6:10
1:45
1:00
Time at Temp
18:10
10:20
11:30
At one point a temperature was taken while a bead was being worked in the chimney of the 'Karen' furnace. Below the bead the temperature was 900 Celcuis while above the bead it was only 850. This difference in temperature, with the heat coming from below provides a very different working environment when compared to the torch heat people are more used to working with.
In addition two videos were recorded showing the thermometer with the thermocouple fixed in the chimney. These videos were examined to produce the following time/temperature graphs.
Compressed video
(8x normal speed) to go with the chart below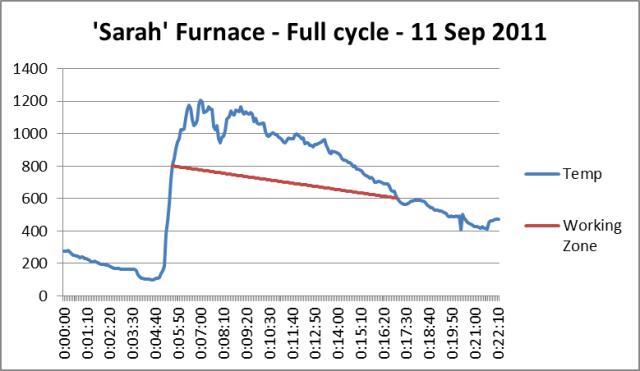 Compressed video
(8x normal speed) to go with the chart below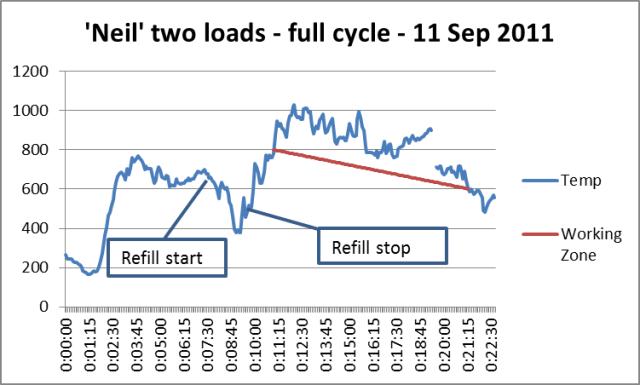 We also got a chance to run and record the "goderich" furnace the next weekend.
Compressed video
(8x normal speed) to go with the chart below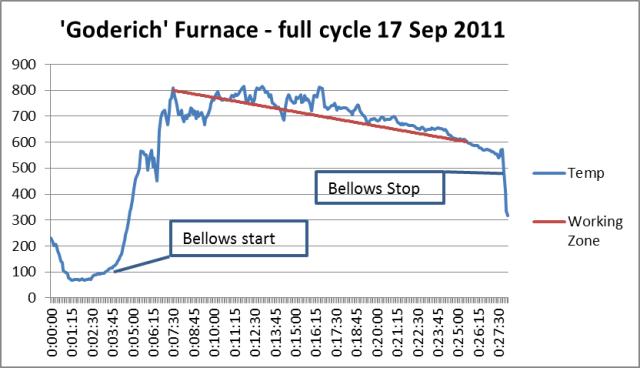 Videos
We also have a few videos available of beads being made in the furnaces:
Notes
We need to cut ports and tuyere with a 2-3 weeks of making the furnace - dry clay is too hard to cut well.
Use thick walls to cut down on heat loss
The "Karen" furnace
Airsource for "Neil" furnace
The "Neil" furnace
The "Sarah" furnace
Layout of "Karen" furnace
Loading port of "Karen" furnace
Darrell working a bead
Bead in the furnace
Bead in the chimney
A busy day
Beads and temperatures
Watching a stringer
Heating a tesserae
Drawing a stringer
Finished stringer
Tweezer Marks
Waiting for a calm
Bead in the chimney
Beads Produced
Darrell managed to record the beads that he produced in the following table. The "Callmer" typology information has been included with them in order to aid in comparing them to other beads.
BEAD
BASE COLOUR
PATTERN COLOUR
PATTERN TYPE
SURFACE
IMAGE
GLASS
SHAPE
see below
DIAMETER mm
WIDTH mm
MANDRIL
HOLE MAX mm
HOLE MIN mm
WORK LOCATION
WORK DETAIL
BREAK?
PIECES
SHAPING
9-11A
red
blue
stringer


9-11A.jpg
cane
flat oval
10.4 E
5.6 E
ss rod
3.7 E


chimney


removal
2/3 only




209-183



311, 503







124-152

164



















9-11B
red
black
stringer


9-11B.jpg
cane
flat oval
9.6
4.6
ss rod
3.6


chimney


chip in annealer






209-183



311, 541







124-151

164



















9-11C
red
black
line


9-11C.jpg
cane
oval
12.6 E
9.1


4.6


chimney


removal
1/2 only
draw to one end


209-183 OR 205-183



311, 503 OR 313,501







124-152

165
Note the two descriptions of decoration - is this a red bead with 3 black lines, or a black bead with a red line that has a black line on it?
While the maker may know how he did it - would the archaeologist be able to tell the difference?
9-11D
orange






9-11D.jpg
tesseri
flat oval
11.5
5.5
iron
5.3
4.7
port A










208-183











124-151

165

No orange beads of this type found, but it is found in other colours: white, black, yellow, red, dark brown, dark blue, turquoise
9-11E
yellow
blue-grey
line


9-11E.jpg
tesseri
oval
10.3
7.2
iron
3.6
2.9
port A






points both sides


206-183



311, 503







124-152

164



















9-11F
yellow




rolled
9-11F.jpg
tesseri
barrel
12.4
12.5
iron
4.1
3.5
port A
off floor
next day
thirds
ash coated


206-183











124-153

165

No known matches
9-11G
blue
brown
blob
cut bars
9-11G.jpg
tesseri
barrel
13.7
11.8
iron
4
2.6
port A










214-183



??







125-152

165

No real matches for that "blob" decoration
9-11H
blue
red
stringer


9-11H.jpg
tesseri
oval
9.5
5.3
iron
3.1
2.8
port A
off spoon
removal
half




214-183



311,503







124-152

164



















9-11I
light blue
black
dots


9-11I.jpg
cane
oval
13.6
8.9
iron
4
3.5
chimney
off bottom surface
in annealer
half
slightly irregular


215-183



301,321







124-152

165



















9-11J
blue
black
stringer


9-11J.jpg
tesseri
round
10.6
9
iron
3.3
2.3
port & chimney
stringer off spoon
removal
1/2 only




215-183


311,503






124-152
164


















Bead 9-11A
Bead 9-11B
Bead 9-11C
Bead 9-11D
Bead 9-11E
Bead 9-11F
Bead 9-11G
Bead 9-11H
Bead 9-11I
Bead 9-11J