Characters - Ragnarr & Ka∂lin
Note: This is the first in what will be a series giving backgrounds of the characterizations DARC members are planning to use for the LAM 2010 presentation.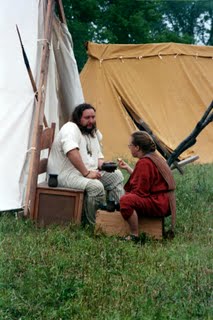 Ragnarr Thorbergsson

and

Kaðlín Jónsdottir

were happy
in their life at Kaupang (Norway). Ragnarr produced wonderful glass
beads and had trading interests in various ships.
Kaðlín produced fabrics suited to the townfolk around
them. Then Olaf the king's friend settled into town
bringing in trade goods including beads and fabric cheaper
than Ragnarr and Kaðlín can make or get. The king made
it plain where his preference was and they saw their trade
drying up.

Unwilling to start a fight they would lose they decided to
pack up and head to that new land they had heard about -
Iceland. It sounded full of promise and the idea of owning
a nice farm with good tenants to do the hard work while they
settled down and worked on a family sounded good. Full of
enthusiasm they sold off their shop, and booked passage to
Iceland.

Unfortunately Iceland wasn't what they had been lead to
believe. No farms were available to be taken they were all
claimed by someone. Making friends with a local chieftain
they hoped that after his trip to the Althing to settle a
claim about a farm that in exchange for some of their trade
goods he might lease them the nice farm involved in the
claim. They went with him to the althing and gifted more
trade goods here and there to help gather support for his
case. Unfortunately the case did not go well and in
addition to losing the farm they wanted the chieftain lost
most of his available money. Now Ragnarr is seen as his
supporter and hence isn't welcome at other chieftain's
homes. Making the best of a bad situation they gathered
together some other disgruntled folks and booked passage to
the wonderful new land Eric found - Green land. Even the
name sounded better than Iceland. Eric would be a much
better chieftain to follow.
Text by Neil Peterson
Image by Darrell
Labels: historic intepretation, L'Anse aux Meadows