Viking Sites in Orkney
Just in the order we visited them...
The Orkneyinga Saga Centre and Earl's Bu are outside Orphir Church. Link to all three
here
.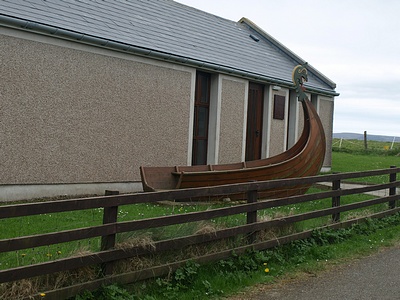 A fun place with a building (pictured) containing 8 panels discussing the location and its connection to the Orkneyinga Saga. I think the best part is that the panels are pictures and laser printed text pasted onto boards, with hand drawn titles. Someone cared enough to work on this. There is also a 17 minute film playing when you want. Outside is the ruins of the Earl's Bu and an old partial church. But the church was built later then the Viking Age.
The
Brough of Birsay
. The Brough is on a tidal island so seeing it is dependant on low tide. And it was fantastic! Lots of the remainders of a Norse settlement. Similar to L'Anse aux Meadows but on the slanted side of an island. Lots of different house layouts. Again there is a later period church.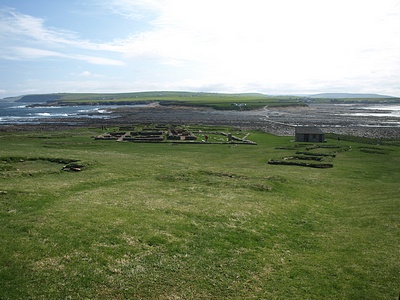 Maeshowe
was next on the list. The guide was absolutely delightful and really brought the place to life. No pictures were allowed inside the tomb but the Viking graffiti was right there, right in front of us. Not in a barely discernable scratch but in clear lines that were readily readable. There's a book that we bought that has great photographic plates of every last one of the 41 runic inscriptions found. it's called "The Runic Inscriptions of Maeshowe, Orkney" and it's written by Michael P. Barnes.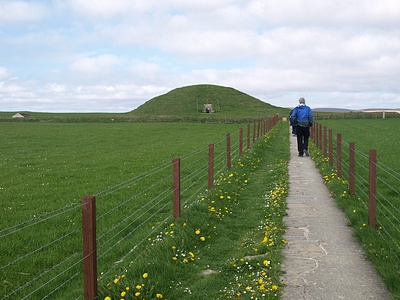 The guide's pronunciation of the english translation of the runes (and in one case Old Norse) in a Yorkshire accent was pretty funny. Don't go here if you're claustrophobiac - the entrance walkway is 10m (30 feet) long and only 1m (3 feet) high. The chamber itself is tiny, and deeply inside a hill.
Do go here if you love really _feeling_ history!
Labels: Orkney, travelogues