Revised Ribe Bead Furnace
On my first evening in Ribe, I had arranged to meet with both Michael Nissen (iron) and Trine Theut (glass) from the Ribe Viking Centre. I offered to buy them dinner against pumping their brains. Trine had corresponded with Neil already about aspects of Viking Age glass bead making.
She had described her latest variation on the set of of the furnace. The next morning, I had taken what I had accumulated in my rough notes into this drawing.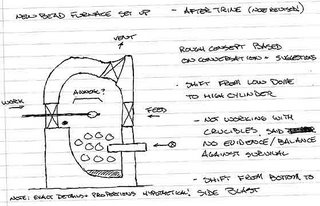 The suggestion of moving the inlet for the air blast both to the side and up off the floor of the furnace was my own suggestion. This based on my experience working with Norse blacksmith's equipment. (Curiously, she and Michael, who works 'two booths over', had never really discussed fire set ups before this evening.)
The next day, I had arranged a visit to the site to meet with the curator. Michael kindly offered to drive me out there and show me around his specific area in detail. Trine has her work station set up inside one of the period A frames (see the posting on tents). I was able to get a number of shots of the actual furnace she is working with:
Showing the working area framed at the top of the furnace.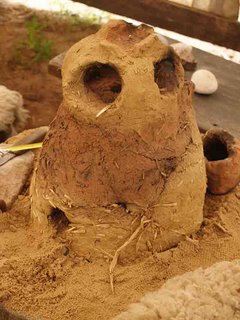 From the rear, showing the low mounted belllows input hole.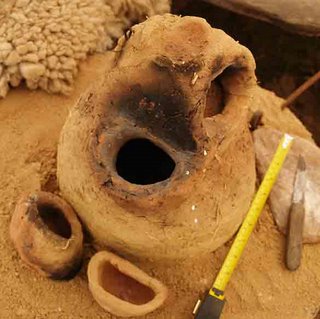 From the front, showing the charcoal feed port and the annealing pots used to plug this.
Effectively what Trine has come up with is a charcoal fired 'torch'. Once the new fuel is burning relatively smoke free, the front loading port is closed up using one of the 'annealing cups'. This forces all the hot combustion gases through the small hole into the upper working area. At this point she can use more or less standard lampwork techniques to work the individual beads. She says her control has improved drastically with this set up - as well as ease, speed and worker comfort. Charcoal consumption has also been reduced.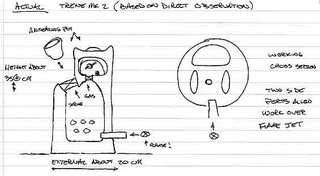 My revised working drawing of a possible set up.
The small circular pan now becomes a much more obvious and useful tool. It can be used to slowly heat pieces of glass towards working temperatures without shocking the surface. Individual fragments of colour or braided threads can be warmed then placed around the hole to be picked up on the hot glass bead as it is worked. The initial gather of glass is applied to the rod / mandrel by first heating the iron to orange. Note that the mandrel is now not any place near heat except for its working tip.
Expect several versions of this small (easy to build and transport) clay cobb furnace to be set up and tested over this summer.
Labels: glass beads, tools